Cattail Ridge Family Market
Period for Sale
Immediately
URL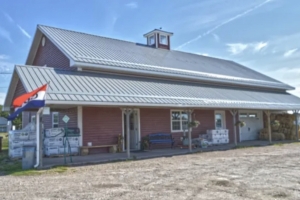 LOCAL FAMILY MARKET
Do you want to be part of a supportive, forward thinking, engaged and active community?
Do you believe in the philosophy of "support local"?
Do you want the laid back lifestyle that The Maritimes has to offer?
Look no further than Sackville NB!
The Cattail Ridge Family Market is located in the beautiful little town of Sackville, New Brunswick and is looking for new ownership.
Nestled in the center of The Maritime provinces the Cattail Ridge Market is a family owned market that takes pride in offering "Local Flavours, Local Talents" such as: fresh produce, grocery, baked goods, pet food/supplies, garden centre (seeds and supplies) as well as local artisan crafts, soaps, sewing, teas, quilts (and much more) to the residents of Sackville and surrounding areas for over a decade.  
This little market offers potential buyers an opportunity to own a flourishing local business that has built it's sales and reputation by supporting our local farmers, artisans and entrepreneurs yet maintaining a steady profit and clientele through our large Pet Centre. This pandemic proof business has benefited by the community focus on local/quality products and experienced a 65% growth in 2020 and continues to grow in 2021!
Cattail Ridge Market is situated on 5 acres of land with exceptional access and visibility to the Trans Canada Highway - offering a unique position as a popular local shopping destination and an excellent stopping point for people travelling through.
Sackville is located right on the Nova Scotia/New Brunswick border.  Sackville is home to Mount Alison University -  Canada's #1 undergraduate University and prides itself on it's inclusivity and diversity. The downtown core offers gorgeous walking trails, shops, restaurants, a vintage movie theatre, art gallery, brewery, park/splash pad and arena.  Outside the downtown (still located within town) you will find Silver lake which includes a fresh water beach, playground and boat launch - a beautiful spot to swim, kayak or just enjoy the outdoors! A few minutes up the road you will find a Beach Hill Park a municipal maintained park that includes walking tails, disc golf course, playground and large activity field.  Sackville truly offers the large variety and activities of a larger city, all while maintaining it's charming small town feel.  
Positioned near to the Tantramar Marsh (known for its amazing bird watching, trails and covered bridges), located 5 minutes from the Bay of Fundy (Canada's highest tides) and 30 minutes from the Northumberland Straight -  which boasts several of Canada's top beaches and the "warmest waters north of the Carolina's".
Sackville's central geography means that you would be at the centre of the Maritime provinces: New Brunswick, Nova Scotia and PEI, providing equal access to each and all they have to offer.  This provides an opportunity to explore the breath taking attractions of all Atlantic Canada, all while staying close to home.
With it's location, lot size and developed retail space the Cattial Ridge Market is an excellent business opportunity, with obvious and inherent potential for growth.  
Specifications:
Building sqft: 1800, built in 2008
Building Dimensions: 30' x 60' with upstairs loft 30x27 and 2 piece bathroom.
Lot size: 5 acres